Cochlear implants: for when hearing aids are not enough…  
Many severe to profound hearing losses can be treated very successfully with hearing aids. There are people though who have such extensive damage to their hearing that speech nerves are unable to fire, even when a hearing aid provides them with adequate amplification. This is where cochlear implants can help.
Generally speaking, if you understand less than 50% of speech, even with good quality, correctly chosen and fitted hearing aids, then a cochlear implant is recommended.
Before we jump the gun though, many problems associated with poor speech clarity or understanding while wearing hearing aids can be associated with poor quality or incorrectly fitted or chosen hearing aids than actual severe cochlear damage.
But if we have ruled out the above, a cochlear implant may be your next step.
How much does a cochlear implant cost?
The public hospital system in Queensland can cover all costs of a cochlear if the recipient meets Queensland Health's Cochlear Implant candidacy criteria.
Private health insurance can cover the full cost of the implant and processor and Medicare covers a portion of the surgery and audiological consultation.
Most cochlear implant providers charge a gap which can be anywhere up to $10,000 for audiological services. ENT surgeons and anaesthetists may also charge extra fees on top of the Medicare benefit.
At Clarity, however, you can receive cochlear implants for little to no out of pockets. Grant Collins, principal audiologist and owner of Clarity, believes that the ability to hear is paramount to having an enjoyable and fulfilled life.
That's why Clarity has structured their pricing model for cochlear implants using a combination of Medicare rebates, including bulk-billing for any pre-surgery vestibular candidacy assessments, and some private health rebates.
Read more about our cochlear and implant pricing and costs here.
Who does cochlear implants in Queensland?
Clarity Hearing Solutions have over 30 clinics throughout Queensland including clinics in regional and remote Queensland. In the past you have had to travel to Brisbane for your implant surgery and then back every few weeks for your implant switch-on and mapping.
Clarity now brings that expertise to all our clinics. You will still need to go to a major centre for the initial implant surgery, but there may be travel subsidies available. Clarity can assist with that. Clarity work with implant surgeons in Brisbane, Townsville, Mackay and the Gold Coast.
Clarity also bulk-bills the vestibular candidacy assessments, which we can do locally, for any of our cochlear implant candidates.
After your surgery, mapping and switch-on of your device can be done locally. You won't need to travel multiple times if you don't happen to live in one of those major centres.
How does a cochlear implant work?
A cochlear implant works by using electrical impulses to activate the nerves of the inner ear directly.
An electrode is surgically implanted into the inner ear and a digital speech processor is either worn on the ear, back of the head or in a pocket.
The speech processor picks up the sound and converts it to an electrical signal.
The electrode then electrically stimulates the nerve in the inner ear associated with the sound picked up by the processor.
What features do cochlear implants have?
Most modern Cochlear processors have many of the same features as hearing aids such as:
advanced noise management
directional microphones
telecoils
Bluetooth including direct to iPhone and Android functionality
Compatibility with hearing aids
waterproof and dustproof ratings.
Like hearing aids there are several brands of cochlear implants and each has their own unique advantages and disadvantages. Clarity can provide any brand to ensure we match your need with the cochlear implant that is best for your hearing outcome.
What are the benefits of cochlear implants?
Everyone will benefit differently from their implant, but below are some of the experiences implant recipients have found.
Adults can benefit immediately and will see continuous improvement for about three months after initial tuning sessions. You will continue to get improvement but that improvement will be slower. Remember, you have to train your brain to 'hear' in a different way. Some implant recipients say their hearing improves for several years.
Your perception of loud, medium and soft sounds improves. Different sounds, such as footsteps, car doors slamming, trains, ringtones, dogs, clocks ticking and so on are deciphered much better.
Leave lip-reading behind. Many say they don't need to try and lip-read anymore to fully understand what is being said. At the very least your cochlear implant will help you lip-read.
Watch TV more easily, especially when they can also see the speaker's face. However, listening to the radio is often more difficult as there are no visual cues available.
Make phone calls again. Recognise and understand familiar voices over the phone. Due to the nature of cochlear implants not every recipient will get this benefit.
Call today on 1300 252 748 or make an appointment using the button below to discuss how implants can help you… or read on for more cochlear implant information.
Request an appointment
Who makes cochlear implants?
While Australian-based Cochlear are known for the pioneering role they had in developing cochlear implant technology there are many other providers of implant technology. Clarity are able to provide technology and devices from all of these to allow you the selection of device required for your hearing loss. The manufacturers we work with and their cochlear implant solutions are listed below.
Advanced Bionics
Advanced Bionics (AB) was established in 1993 and in 2009 became a subsidiary of the Sonova Group (Phonak and Unitron). AB produce several cochlear products.
Advanced Bionics Naida CI
The Naida combines the implant technology from AB and the hearing aid technology from Phonak including:
Auto program changes to match your sound environment
Stream phone calls to both ears using two processors or a processor and a hearing aid
QuickSync allowing changes made to one processor to sync instantly to the other
Advanced Bionics Neptune
Neptune is, as the name suggests, waterproof. But it is also what AB are calling a 'freestyle'design. You can wear the processor where you want. You are not restricted to wearing it on or near your ear. The Neptune benefits include:
Waterproof
Freestyle design
Removable controls (make it childproof)
Cochlear Limited
Cochlear Limited is the originator of cochlear implant technology. Cochlear Ltd was created in 1981 with funding from the Australian Government to commercially the technology and procedures developed by Dr Graeme Clark.
Cochlear Ltd now have several hearing solutions available including their pioneering cochlear implant technology.
Cochlear Nucleus 8
The Nucleus 8 is the latest behind the ear implant technology to be released by Cochlear. It features the first sound processor Made for iPhone and now also works directly with compatible Android phones.
It's Cochlear's smallest and lightest behind-the-ear processor
Stream to both ears with a processor and compatible hearing aid direct from your iPhone or Android phone.
Adjust settings on the go with the downloadable app
Bimodal streaming with GN Resound Hearing aids
Streaming to Bluetooth accessories such as TV streamer's and remote microphones
Cochlear Nucleus Kanso 2
This is Cochlear's newest off the ear processor that uses the Nucleus 7 chip which means it is also compatible for direct streaming from iPhone and compatible Android devices. It is the world's smallest and lightest rechargeable off-the-ear cochlear implant sound processor6, Kanso 2 is designed to be so discreet and so comfortable you'll barely notice you're wearing it.
Cochlear Hybrid
An all-in-one sound processor design, with the world's only fully integrated processing chip ensures synchronised electric and acoustic signals for a seamless hearing experience.
Integrated hybrid/electroacoustic option
Water-resistant
Integrated telecoil
Supports low and high-frequency profound hearing loss
MED-EL
Founded in 1990 MED-EL is based in Austria and is still a private company. MED-EL was founded by Ingeborg and Erwin Hochmair after they developed the first passive single-channel cochlear implant, which was implanted in 1977.
MED-EL provide a range of hearing loss solutions. In the cochlear implant sector they provide the following devices.
MED-EL Sonnet 2
The Sonnet 2 is MED-EL's behind-the-ear processor. Some of the features of the Sonnet include:
Microphone Directionality
Water-Resistant Design
Wireless Connectivity
Wind Noise Reduction
Bimodal options
MED-EL Sonnet 2 EAS
The Sonnet 2 EAS is MED-EL's hybrid implant and hearing aid technology allowing treatment of a wider range of hearing loss in one solution.
As above but in addition:
Dedicated acoustic stimulation across the low frequencies and electric stimulation in the high frequencies
Microphone directionality
Wind noise reduction
Automatic volume control
MED-EL Rondo 3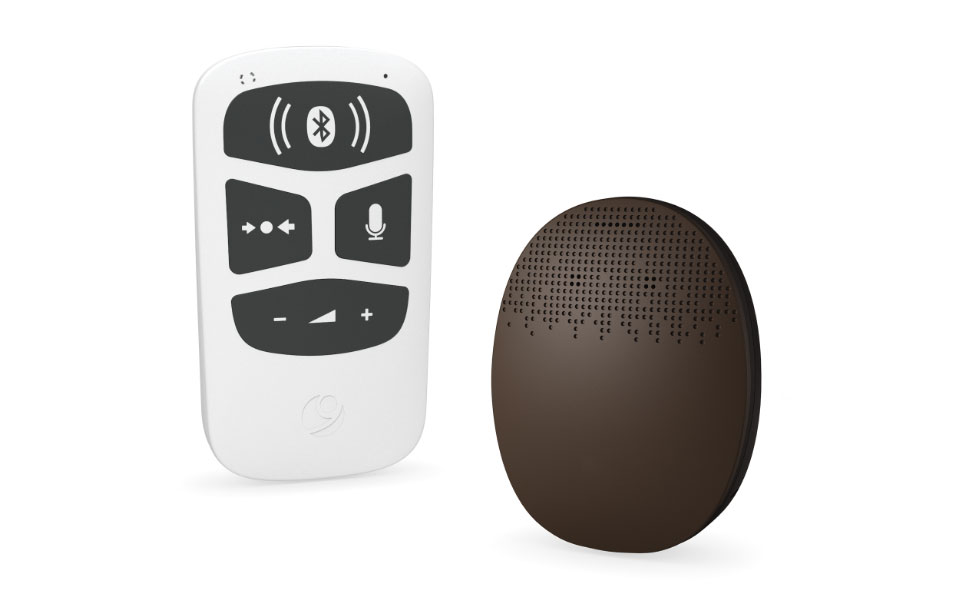 This is the latest model from MED-EL and features are similar to the original Rondo with one exception. This model features wireless, inductive charging:
Compact All-in-One Design – smaller again than the Rondo 2
Comfortable and Discreet
Waterproof with WaterWear Accessory
Wireless inductive charging
Wireless streaming using the Med-El AudioLink
Compatible with Ottoplan for anatomy based fitting
Oticon Medical
Oticon is a Danish hearing solutions company and was founded in 1904 by Hans Demant, whose wife suffered from hearing loss. It is now a subsidiary of William Demant, a hearing aid and personal sound conglomerate whose brands include Oticon, Bernafon, Sonic Innovations, Neurelec and Oticon Medical.
Oticon Medical provides the following cochlear implant technology.
Oticon Medical Neuro One
Oticon sound processing technology inside
Wireless capabilities
A comfortable and robust design
Adapts to new listening environments
Induction loop system providing Bluetooth™ technologies
Oticon Medical Saphyr Neo Collection
4 programs
Built-in Telecoil
Bluetooth connectivity
How do I get a cochlear implant?
If you are considering cochlear implants to address severe or profound hearing loss the next step is to make an appointment with Clarity to discuss your options and how to determine your suitability.
You will need to see an ENT (Ear, Nose, Throat specialist) to ensure you are physically suited to cochlear implants. We can assist you in finding an ENT when you are ready for that step as well.
Once we have determined your suitability then it's just a matter of scheduling the initial implant surgery, the initial switch-on and ongoing mapping and rehabilitation.
If you'd like to arrange a cochlear implant discussion, contact us today and we'll arrange it for a time that suits you.
Call today on 1300 252 748 or make an appointment using the button below to discuss how implants can help you.
Request an appointment
Read more about cochlear implants from Clarity